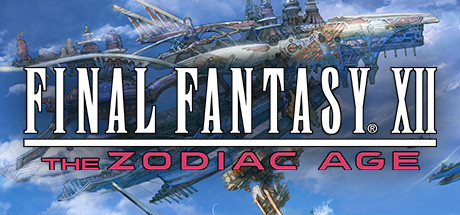 Description

Back in the world of Ivalice ...

This remastering in HD is the phenomenal 12th opus of the FINAL FANTASY franchise that has sold more than 6,100,000 copies worldwide, and now offers reinvented game mechanics!

In addition to offering improved graphics and sound to take advantage of modern hardware capabilities, the game also features improved mechanics that move the original FFXII to the next generation of consoles.

It's the rebirth of a cult adventure!

The story

Two years have passed since the great belligerent empire of Archadia wiped out the kingdom of Dalmasca ...

Vaan, a young man whose family died during the war, leads an austere life in the busy city of Rabanastre, and dreams of becoming a pirate of the sky and roam the skies freely. Princess Ashe, the last survivor of the royal family of Dalmasca, swears revenge and leads the resistance in secret in the hope of leaving her homeland from the clutches of the empire.

United by the chaos of this era, the dreams and hopes of the two heroes will shape the destiny of their people and change the course of history.

Special features of FINAL FANTASY XII THE ZODIAC AGE

The graphics of the game have been completely remastered using the latest technologies. The images have been adapted for high-resolution screens, and textures and shading effects have also been improved.

This release includes the Zodiac Job system that allows players to develop and evolve their characters freely by choosing a unique combination of two of the twelve classes available. You will discover immense potential and infinite tactical possibilities as your characters change and evolve according to the combinations you choose.

New elements, such as more intense fights, an optional accelerated mode, and an automatic save function, have also been added to the game to improve playability and accessibility.

Many hunting contracts, fights, and mini-games are waiting for you.

The game's music was re-recorded with a live orchestra, and the sound quality was improved for the first time in 5.1 sound.

You can go from the original music of the game to the re-orchestrated version or the original soundtrack.
Final Fantasy XII : The Zodiac Age XCI/NSP + UPDATE INFO
Release date: 25/04/2019
Publisher / Developer: SQUARE ENIX LTD.
Genres: RPG
Format: XCI / NSP
Languages: MULTI (English, French, Italian, German, Spanish, Japanese, Korean, Chinese)
Region: FREE / JAP . FREE/EUR
SIZE : 14.8 GB
Link :
JAP VERSION (English, French, Italian, German, Spanish, Japanese, Korean, Chinese)




XCI FORMAT


GDRIVE
http://vaugette.com/3p3V
1FICHIER
https://ouo.io/IFda8X



NSP FORMAT


GDRIVE
http://vaugette.com/3p8D
1FICHIER
https://ouo.io/NYYS9L

update v65536
https://ouo.io/2HDkww



EUR VERSION (ja, en, es, fr, de, it, ko, zh)




NSP FORMAT


ONEDRIVE
http://raboninco.com/VcVZ
http://raboninco.com/VcVa
http://raboninco.com/VcVb
1FICHIER
https://ouo.io/z49z2f
https://ouo.io/zLpgRJ
https://ouo.io/jpFJwt



UPDATE v1.1.0


ONEDRIVE
http://raboninco.com/VcQh
1FICHIER
https://ouo.io/y5klf4